Provence, Camargue and Tarn Gorges
Information
Place: Provence, Camargue, Tarn Gorges
Period: 29 May 2010 -> 06 Jun 2010
Characteristics: landscapes, nature, flora and fauna, history and architectutre
Hints: long focal lengths, teleconverters and a good tripod are ideal to shoot local wildlife; as for lavander the best time is summer, between mid-June and August; there's really a lot to see, and for any taste: get an idea of what you don't want to miss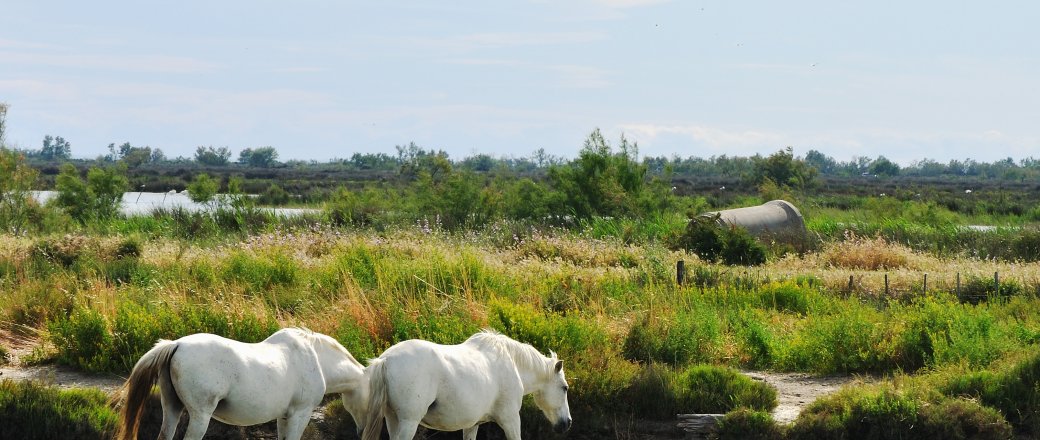 Gear
Camera: Nikon D5000
Lenses: Nikkor AF-S DX 18-105mm f/3.5-5.6G ED VR, Nikkor AF-S DX 35mm f/1.8G
Filters: CIR-PL Hoya HD 67mm

Although it's been some time I decided to write an article about the journey made in Provence, Camargue and Tarn Gorges between late May and early June 2010.
Many know Provence for the flowering of lavender and Camargue for its wild landscapes livened by horses, bulls and flamingos. However, if you want to photograph lavender fields in bloom you have to wait for summer: "C'est trop tôt!" - Said the saleswoman of a gift shop in Roussillon. You can find lots of information for your routes on this site (only in French). The period we have chosen, on the other hand, offers the advantage of milder temperatures. We also decided to continue beyond Camargue, going to Millau, near the gorges of Tarn River, which is certainly a less known goal but not less interesting. Provence and Camargue offer many opportunities for those who love cycling, but given the distances that we wanted to cover we decided to go by car.
The journey took nine days, divided into various stages along the route, as you can see below, starting from Milan to return there after running a ring that brought us to France along the coast and back to Italy through Frejus Pass. p>
In the first part of the trip we moved from Milan to the coast and continued heading west. So far nothing particularly interesting, but just past the border with France, I suggest you leave the highway right after Menton to travel, at least in part, one of three "Corniches" that leads to Nice. The "Basse Corniche", the "Moyenne Corniche" and "Grande Corniche" go through several villages of the Côte d'Azur, where you can already find several ideas for photos, including landscapes and characteristic views. Among the most known there are Roquebrune-Cap-Martin, La Turbie, Cap d'Ail, Eze, Beaulieu, Cap Ferrat, Villefranche-sur-Mer.
Right after Nice, with a short detour, you can easily reach Saint-Paul-de-Vence. This small village, situated on the top of a hill, is famous for being frequented by many celebrities, including painters, sculptors, poets and actors (Matisse, Renoir, Modigliani, Prévert, Yves Montand, Lino Ventura, Romy Schneider, Roger Moore, Tony Curtis, to name a few). Visiting its website you can find historical information, events and more. I recommend you take a break just for a stroll through the narrow streets, where you can discover monuments, admire the stone houses coloured by spring flowers or just watch some bowls match. This game is very popular in Provence, which not surprisingly gives its name to one of his specialties, as well as having given birth, at the beginning of the twentieth century, to the Petanque, a variant known worldwide since after the war.
In the evening we arrived in Saint-Raphael, a hamlet of Fréjus, where we spent the first night. This is a small seaside village that based on what I saw seemed only for tourists. As the only remarkable thing I noted the harbour, almost entirely surrounded by houses.
Next morning we left for our second goal, where we stayed for three nights. We chose Arles because it is ideally located for exploring Provence and especially Camargue. Along the route that separates us from our destination (about 300km) there are a lot of places to visit.
As a first step we decided to stay in Cassis. Here you can admire the castle that overlooks the sea from a steep cliff. Apparently, however, it is currently housing a luxury hotel, so if you want to visit it then it will cost you a bit... It is something which is worth to know in advance rather than discovering it after goimg up! As an alternative you can choose a more relaxing boat trip to observe closely the famous Calanques, cliffs overlooking the sea and forming jagged coves that characterize this stretch of coastline, extending for several miles and reaching Marseille. Many boats depart from the harbor, offering short and long tours to visit 3, 5 or 8 calanques. In order to avoid long waiting I suggest to pay attention to departure times and look at the sea conditions, since in case they are not optimal some tours (the longer ones) are canceled. Moreover, during the trip there could be some "dancing" and, although the commander will alert passengers, he will probably do it only in French (at least this was our case, but I would not be surprised if this was usual...), so be ready to put away your camera and hold tight. Anyway I do not want to scare you, that day nobody fell into the sea, I think...
After leaving Cassis we made a stop in Aix-en-Provence, a city which is easily accessible as it is located along the highway. Here you can take a walk on the famous Cours Mirabeau, a tree-lined avenue along which you will find many fountains, statues and historic buildings. You can also dive into the streets to go searching for the cathedral or just sit down and have a drink in one of the many cafes that you will encounter.
Between the border with France and Arles there are a lot of places to visit and there is something for everyone: from small villages near the Corniches to large cities such as Marseille, from the most quiet and reserved to the most popular resorts of the Côte d'Azur, sea or inland. There are really a lot of possibilities, but it all depends on how much time you have and how you want to spend it, therefore I suggest to think ahead about what's more interesting to you and then make your choice, keeping in mind that any plan can be upset if it is worth.
Arles is a city that is located in a strategic position for those who want to visit Camargue. Located at the mouth of the Rhone river, which is crossing it, Arles offers the chance to reach quickly the national park famous throughout the world for its natural features. From Arles you can also move in the other direction to meet a number of countries that deserve to be visited. Arles itself offers a number of interesting points, starting with the famous Roman arena, which has a much larger copy about twenty kilometers to the west, in Nimes, a city which, however, I didn't find particularly interesting apart from the arena.
Not so far away from Arles you can find Les Baux-de-Provence, a small town with a rich history, ranging from ancient times to present day.
At the beginning of the nineteenth century there were opened the first mines of bauxite, rock used to make aluminum, which takes its name from this village. Currently the country is almost exclusively a tourist destination, but apparently still has some stable residents, although it is a matter of a few dozen people. We have not stopped since that day we were late on our schedule, but along the way we found many tourists who parked to go to visit the castle and the town.
On the web you will find many photos showing ruins, buildings and churches of all ages and I think if I were to go back I would probably dedicate a bit of time to Les Baux-de-Provence. Unfortunately, all I've seen are the castle ruins portraited above, visible from the road that runs along the foot of the village.
One goal which you cannot miss is Roussillon, not that close to Arles, but still easy to reach for a daily trip. The country is known for its special red earth, from which comes its name.
The ground conformation, where clay and iron oxides are mixed together, allows to obtain the red coloration which can be found even in the village houses. In souvenir shops you can find several compositions made ​​with multiple shades of color obtained by combining these soils. Although the decorative sphere is the most easily associated with their use, it looks like they have been used in other contexts, such as cosmetics or even in the food, at least in the past.
Once you get to Roussillon you can wander around the narrow streets or head straight to the Trail of Ochers, that will guide you to explore this territory. Through a path that alternates large clearings and wooded areas you will see very vivid colors that change depending on the light conditions, and if you have a polarizing filter you can eliminate glare and make them even more saturated. I recommend you to pay attention to your lenses as just a little of wind suffices to raise clouds of acrid soil that slips everywhere.
If you come around this area then you can stop in Gordes, not far from Roussillon, a country rich in history and monuments. Nearby there is an abbey that those who intend to visit Provence, lavender lover or not, have already seen for sure: Sénanque Abbey. If the name does not mean anything to you don't worry, most likely the reason is that you have just seen his picture, which is a symbol of the entire Provence. Its fame is due to the lavender fields that surround it and its most classic picture is more or less as you can see above. Yet nothing comes to your mind? In fact in my photo it is missing just that little bit of color that has made this abbey so famous, but I could not stay there and wait for a month for lavender to blossom...
In the same area we soon reached Fontaine-de-Vaucluse, a small village known for its deep water sources, remained mysterious until a few decades ago, when it was discovered their lowest point. Moreover, Fontaine-de-Vaucluse was a resting place for Petrarca, who sang its "Clear, fresh and sweet waters."
About this country I remember with pleasure the cool and shaded streets on the bank of the river, a feeling which was definitely in contrast with the hot born a few hours earlier on the red soil of Roussillon.
There is no doubt about Provence and Camargue being places with lush nature and already in the past many people were aware about that. Among them many impressionist painters (Van Gogh, Cézanne, Renoir, to name a few), who lived and painted many of their works in this area of ​​France.
In Arles and its surroundings, for example, Vincent Van Gogh has produced many of his most famous paintings. Reading up a little bit through some guide or simply making a quick stop at the tourist office to retrieve a map, you will easily find the places where he painted some of his works. In each of them there is a panel with a reproduction of the painting itself and a short description telling the story. Unfortunately, not all the places remained unaltered and in some cases there is no trace of their original state (for example the Maison Jaune no longer exists), but there are some that still retain their charm.
Above and below you can find a couple of examples. Le café le soir coffee has been renewed a bit, but at least they had the good taste to keep several details. Le pont de Langlois aux lavandières bridge appears instead exactly as it was portrayed.
Obviously Arles couldn't miss a museum dedicated to the famous impressionist painter, but if you love painting (in the end it has much in common with photography) I suggest you to look around and you will find that opportunities to see something interesting are many, and not only in Arles. For example, I discovered only recently that in Cagnes-sur-Mer, on the Côte d'Azur, the house where Pierre-Auguste Renoir lived is now a museum dedicated to him. Maybe if I had known before I would have done a stop, or at least I would have tried to see some of the places where he made his paintings.
In short, I can not claim to be a fan of painting, but seeing the paintings subjects materialize in front of me struck me. To tell the truth this time I was more prepared. The first time it happened several years ago, when I wasn't even interested in photography and by chance I noticed that cafe on the square in Arles, that cafe that caught my attention, that coffee which had something familiar even for a layman like me, until I noticed the panel and I read it, finally understanding the reason why.
In the meantime, I did not become neither a painter nor an art expert, but that moment stuck in my mind, like when you have something under your nose but you can not realize about it. Then, your perspective suddenly changes, and from that moment on that detail which was unknown right before takes a different shape and value. After all, the same thing happened to me with photography. In conclusion, I can only tell you to look around carefully, maybe you will have the chance to find something you like, maybe just something nice, maybe a new passion.
Here we are finally at Camargue section. This region has a great natural interest: it is known for its unspoiled landscapes, beautiful and wild, and for its fauna, living completely free in this paradise hung between lakes and meadows.
Camargue lies geographically south of Arles, forming a triangle bordered by the sea and the Rhone river, which divides into two arms near the mouth. In the middles many ponds are inhabited by pink flamingos that have made this area famous, alternating with green meadows, where equally well known Camargue horses live in the wild.
A classic way to visit Camargue is to run along the Vaccari Pond, the largest one, reaching the saltpans red waters. You may see many tourists by bicycle, a mean that makes possible, with a little bit of effort, to appreciate the region even more. And if you are looking for absolute contact with nature then you can choose to move on horseback. There are in fact several riding stables that organize tours ranging from a few tens of minutes to days. The choice depends on your riding skills and your endurance. By the way, if once got into the saddle you should be afraid, you can exclaim "J'ai peur, j'ai peur!": your guide will not turn a hair and continue as if nothing had happened, but you will feel better.
Back to tour, along the road next to Vaccari Pond you can stop almost everywhere in search of interesting subjects for your photographs. In some places there are also small towers to better look at the landscape.
If you love nature photography this is definitely the place for you. Prepare your arsenal: if you have long focal lengths and/or teleconverters then it is time to use them. With horses, if you have a little of patience and trust to let them approach, a medium focal can be enough, but the flamingos are much less curious and stay comfortably on their own, away from potential troublemakers. If you have no long focal lengths but you have a pair of binoculars (like me) then you should definitely take them with you. Maybe you will not go home with the photos, but having the chance to observe the inhabitants of this region is an opportunity not to be missed.
Although nature is Camargue main attraction, there are countries that deserve to be visited as well. You can make a stop in Saintes-Maries-de-la-Mer, a small town characterized by its white houses, typical of the seaside town. No doubt you will notice many references to Spain and to the bullfights, but don't worry, there is an explanation for everything: here takes place every year in late May a famous gypsy festival.
Another place which can be reached in a short time is Aigues-Mortes, country enclosed within its walls, which in its original state defined a rectangular plan. Here you can take photos of the church, monuments or walls, perhaps under the light of sunset.
After a day of sightseeing around Camargue I remember the car riding on the way back to Arles, in the dark of the night that had already wrapped everything. Around, only silence, a few lights in the distance, the glow of the moon reflected in the ponds and the feeling of being in the middle of nowhere.
Not yet fully satisfied about what we saw in Provence and Camargue we wanted to go further. Going first to the west and then, after Montpellier, towards the north, you reach Millau, an Aveyron department city with nothing special which is worth mentioning, except for a 2.5km viaduct which is currently, with its 341m height, the highest vehicles bridge in the world. If you love architecture probably this is already a good reason to get to this city, where you can photograph the viaduct from different points of view and maybe, if you're lucky, with striking effects due to fog or in the light of sunrise and sunset. If this is not enough, but you like nature, then you do not have to worry: Millau is crossed by the Tarn River, which you can reach in a few minutes to head north along its deep gorges, in a wild and unspoiled landscape.
The path that we have followed is a loop that initially ups the river, up to Sainte-Enimie or Ispagnac (I cannot remember), and then descends to the south back to Millau. The tour can be done easily within a day, with plenty of time to visit the picturesque villages that you will meet. Along the way there are also places where you can make boat trips, whereas if you want to enjoy the scenery from a different point of view then you can leave the main road near Les Vignes to get to Point Sublime, near Saint-Georges-de-Lévéjac.
There are many villages you will come across and you will need to make a choice, unless you decide to take a little more time sleeping in one of them. Moreover, given the ground conformation, full of caves, underground rivers and lakes, I recommend you to visit at least one of these sites: Aven Armand, in Meyrueis, is a cave with colored stalactites, Dargilan Cave, also in Meyrueis, is characterized by caves and lakes, whereas Bramabiau Abyss is an abyss with an underground river and is located in Saint-Sauveur-de-Camprieu. Check opening hours because they vary depending on the time of the year. Unless things have not changed don't expect guided tours in Italian, but even if you don't know French (which, however, we specifically asked for to practice a bit) your eyes will be satisfied.
The trip Tarn Gorges was definitely a pleasant surprise. I remember the tranquility of the place, the total absence of traffic despite the road was practically one, the beauty of the landscape and wildlife with its fauna and its subterranean wonders. The hotel where we spent two nights deserves a comment as well. In a suburb of Millau, Creisseils, you can find the homonymous castle, dating back to the Middle Ages, which houses 'Chateau de Creisseils Hotel, where you can wake up with a beautiful view of the landscape (including viaduct, although it was not there in the Middle Ages...), spend some time in the beautiful garden with plants and flowers, and dine by candlelight on the the walls that overlook the city lights. If you will ever come around here I definitely recommend it.
To go back to Italy we decided to follow a different route, heading north-east to Lyon and then going back to Italy via Chambéry and the Fréjus Pass.
After leaving in the morning from Millau, we went to Le Puy-en-Velay, with its beautiful cathedral and the charming Saint-Michel d'Aiguilhe Chapel, situated on top of a volcanic chimney. This unusual landscape is one of the reasons why we decided to get to this small town.
Going on we finally reached Lyon, where we spent two nights. Lyon is one of the largest cities in France, but despite its size it is absolutely livable. Crossed by two rivers, the Rhône and the Saône, it is dominated by two hills, the Fourvière and Croix-Rousse, which are, together with the old city districts, the Vieux Lyon, UNESCO World Heritage Site.
Lyon offers a lot of opportunities to tourists. From services point of view you will find everything that you can expect from a big city, including efficient public transport running late in the night. As for amusements I remember a lot of pubs and restaurantesboth in Vieux Lyon and close to Place Bellecour, one of the largest squares in France. For those who love history, architecture and culture in general there are many opportunities due to the development that Lyon has had since the Rome times, through the Middle Ages, to get to the most recent times.
I definitely recommend getting on Fourvière, where you can admire the panorama of the city and visit the Basilica of Notre-Dame-de-la-Fourvière. In addition, you should definitely take a walk through the narrow streets of Vieux Lyon, which actually consists of three districts, where between buildings, churches and historic buildings you won't miss the opportunity to take good pictures.
On the other hand, if you want to take some time to relax then you can go to the Parc de la Tête d'Or, a beautiful park with a pond where you can take a boat ride (as a bit everywhere in France), a colored area with flower beds enriched by different kinds of flowers, of course recommended in spring, and a zoo, where many animals are sadly but inevitably in a cage, but others enjoy plenty of space where they can freely move.
In conclusion, having to make a final judgment, I think that given the trip theme, more focused on nature, Lyon clashes a bit, but at the same time I think it is a city worth to be visited, but dedicating it the right attention and time it deserves.
Going back to Italy from Lyon is fairly easy. It suffice to head east and slip through the mountains somewhere near Chambéry. At this point we could open a separate chapter, but time has run out, so no stops, trips or visits, despite this area would deserve them, and straight to Fréjus Pass to return finally to Italy.
When I started writing this article I didn't think it would take me so long, but looking at all the photos and thinking about the trip I realized that I had much to say, but most of all I realized that there is much yet to be seen. The cities and towns that we visited are just a few of the many. You'll notice that there are many that I have not mentioned, but it is only because we did not have time to visit them all...
If I had to do the same trip again I would probably skip the nights spent in Lyon and I would focus only on nature, even going back through the same road to make a few additional stops, for example in Avignon, Orange or in any Côte d'Azur country.
From photographic point of view I would say that you should have on hand a bit of everything: short and long focal lengths, tripod, polarizing filter and neutral density filter, Hoya ND400 type, to play with water long exposures. Unfortunately, when I took the trip I didn't have a good wide angle neither a telephoto (which is still missing in my gear). Moreover, being now more judgmental about composition, I have not posted photos about the trip in the gallery and to be honest I also found it hard to select the photos you'll find in this article. I think I will have to come back again around that area...
If you have any questions or comments you can use the section below or email me.
Which is the best period to visit Provence and Camargue?
It depends on what you want to see... If you are interested in lavander then take a look at the next questions. If you want to portrait flamingos then the best period (but not the only one)is winter, between January and February: you can find some information on Fotografia e Viaggi (Italian version), which organizes photography workshops as well. Finally, in case you don't have special requirements I suggest spring: weather is mild, days are longer and tourists are not that many.
Where can I see/photograph the blooming of lavander?
No doubt in Provence, but more generally in the range that extends from Provence to the Alps. You can find some indications on this site (French version only).
Which is the best period to see/photograph the blooming of lavender?
Lavander blooms, based on different areas, between June and August. Some detailed information can be found here (Italian version).
Which is the best place to see the places where the greatest Impressionist painters made their paintings?
Van Gogh painted a lot of its works in Arles. Renoir lived in Cagnes-sur-Mer, where you can find a museum dedicated to him. Cézanne lived in Aix-en-Provence.
Where can I find additional information about Provence and Camargue?
On this site (Italian version) you can find information about places to visit, routes and practical advices. It also contains information about other France regions.